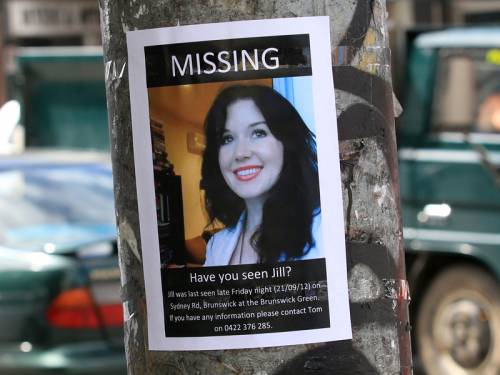 Unless you're not from Australia, you may not know about Jill Meagher. In the very early hours of Saturday 22nd September, she started the extremely short walk home in Brunswick, one she'd probably walked alone many times before. But she never made it home and her husband reported her missing right away. Within a day or two the whole of the country was aware of her disappearance. On the morning of Friday 28th I woke to the news that her body had been discovered, raped and murdered 50km north of Melbourne and a man had been arrested in relation to her death.
I honestly haven't stopped thinking about it since my boyfriend woke me up to tell me her body had been discovered. I was feeling ratshit from going to a gig the night before and the subsequent agony that my back was going through as a result, but I was wide awake as soon as I heard. I knew deep down that there wouldn't be a happy ending when she was missing for more than three days and they found her belongings in an alley. But that doesn't stop you from feeling sad when you find out what happened to her.
Without making this a big ol' feminist rant, I just want to say how close to home this is for almost every female I know. We're always told to be careful, not to walk alone at night (especially not while drunk) and always be wary of strange men. But who would ever think they'd be abducted while walking the 500m from a bar to your home in a busy neighbourhood? It goes to show that no matter how careful and prepared for the worse you are, it means nothing when you're in the wrong place at the wrong time. It was so sad to hear of people victim-shaming her for not calling her hubby to pick her up or catching a cab. It was 500 metres, of course it made sense to walk when she probably did it dozens of times before. I've made similar walks home while drunk before and while I had fleeting thoughts of worry that someone might try and hurt me, the fact it was a short distance in a busy area with lots of potential witnesses made the likeliness of my being hurt/grabbed seem impossible. I could have been so wrong just one of those times and never made it home. It's so unfair that women have to be scared about being assaulted by simply walking by themselves at night, and then have people say "well you shouldn't have done that" like we're supposed to cover ourselves head to toe and have a man with us at every moment to avoid being attacked. It's just bullshit.
I just hope Jill's death won't be in vain. I hope that it will affect people in such a way that we all start looking after one another a little better. Yes, killers and rapists will always be out there but maybe this will help make people more aware of the things happening around them and more willing to help out if someone seems to be in trouble. I also hope cab drivers stop refusing short trip fares, especially to the vulnerable and partners are more obliging to pick loved ones up instead of expecting them to make their own way home after a night out. If that's what comes of of this terrible situation then at least Jill's death wasn't entirely pointless, especially if it ends up saving someone else's life.
RIP Jill.